Those legs. Damn.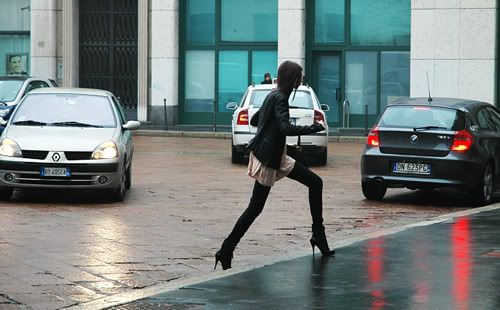 source: jaknjil
So today I went to a client of a friend's friend's art gallery to help out with sorting out the paintings (and to earn some hard cash) for its opening on Thursday. It was hard work, but it was a pretty fruitful experience. The gallery was small but looks really chic. Too bad my camera died on me just when I tried to take a second photograph. ):
Ps: To answer some of your questions, my top is pretty sheer actually, and I bought it off online. The ring on my middle finger is from a flea market and the one on my thumb is.. I forgot, heh. I don't use a DSLR camera, but on the other note, I merely just photoshop the shallow depth-of-field and the brightness of my photographs. Thank y'all for your lovely comments! I really, really appreciated it. (:
---
Kommentarer
oh.;p i saw in some of your pics (from your bf's flickr) that you have a DSLR that's why i thought you were using that kind of camera for your photos.;p anyway, really looking forward to seeing more outfit shots.



btw, i was just wondering why you have to go to college twice in singapore?
abby - My boyfriend has his own camera, it's a Nikon FM SLR film camera. I do own a camera other than a compact camera. Mine's a F65 SLR film camera, but I don't use it for outfit shots.



I don't go to college twice. I just graduated from a polytechnic and I'm advancing to university. But currently, I am contemplating between an arts school or a normal university. (:
oh. i thought polytechnic is similar to college because we have a school named like that here. so polytechnic in singapore is still high school? whoa. we start college here at 17. sorry if i have annoying questions, i'm just curious.



arts school sounds very interesting and it seems like you'd be a great fit for something like that.=) i'm currently trying my hand at photography since it comes in handy in my kind of work.;p
abby - Actually it goes like this.. After high school, we'll go to a junior college/polytechnic, after which we'll head to university. Where are you from and what do you do? (:
oh i see. i asked my bf about that too the other night and he said it's because you guys have middle school? anyway...



i'm from manila, i've been to singapore before but just for a short holiday. i'm a features writer for a local daily here and i also do freelance writing gigs (usually contributing to magazines or PR stuff) - i need that if i want to keep on traveling and shopping.;p
abby - Ooooh! If it's doing what you like, I think it's really cool. (:
abby - My boyfriend has his own camera, it's a Nikon FM SLR film camera. I do own a camera other than a compact camera. Mine's a F65 SLR film camera, but I don't use it for outfit shots.



I don't go to college twice. I just graduated from a polytechnic and I'm advancing to university. But currently, I am contemplating between an arts school or a normal university. (:
Trackback