Spring!
Singapore is sunny all year round and we do not have seasons here, unless you want to count sunny days and rainy days as seasons. But really, other than not being able to bundle up for winter, we can still celebrate the other seasons in style! For spring, I'm thinking classic florals, romance, nude colors, pink, ruffles, bows, basically an overload of femininity. Anyhow, I created some spring outfits I'd love to own.
And then I started playing around with floral illustrations as backgrounds..
And if you're drowning in an overdose of girliness but would still love to have a tinge of spring in your outfit.. what about a Jean Paul Gaultier floral bustier top and Thomas Wylde Floral Studded Bag for you?
Spring must-haves - floral tights!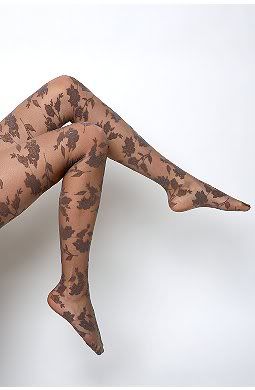 Last but not least, I end with.. "I want this!!"
source: polyvore, uo, topshop
---
Kommentarer
Your lucky that its warm all year round. Growing up in a climate that goes from hot to cold gets really annoyning. I mean, I am more of a spring/summer gal anyway.



Also loving the clothes choice.
Love it the way you put those things together.;D

Wonderful..And those tights are so great.;D

Have a happy week.
Okay, I'll take all of this please... wow, it's exactly what I need right now! xxx
i like the 2nd look the most.;p i've been looking for lacy tights for months now but all i've found are knee length ones.=(



i think the last outfit is so you.;p hehe...looking forward to your next outfit post.=)
Champagne - Sometimes I wish we have winter here so that we can layer up on nice coats and what-nots. It gets so hot here it's irritating sometimes. The most we can do is wear a jacket in an air-conditioned room. So our clothing choices are pretty limited. And thanks! (:
Jules - Thank you, and have a great week too! (:
Bella - Hahaha, absolutely, me too!!!
abby - Outfit post on the way! (:
oh wow, i love this entry immensely! esp the gorgeous white skirt, and jpg floral bustier top. sigh, polyvore's terribly addictive!
anonymous - Yes, polyvore is extremely addictive, and thank you!! (:
I really love your choice of outfits! It's really pretty and it matches really well.. Love your sense of fashion! :D
I love all of these wondeful items... now, if only I could AFFORD them!
Fahm - "now, if only I could AFFORD them!" totally agree with this sentence. If only I could afford them all!
You have such an outstanding taste in fashion! Where, if I may ask, is the second, gray and pink dress from?
Youre taste in fashion is so great, but i need to ask, where is the first dress from, because i would like to purchase it for my prom the the next year.

Once again i like youre taste in fashion and keep going like that !!!
Trackback