Losing it.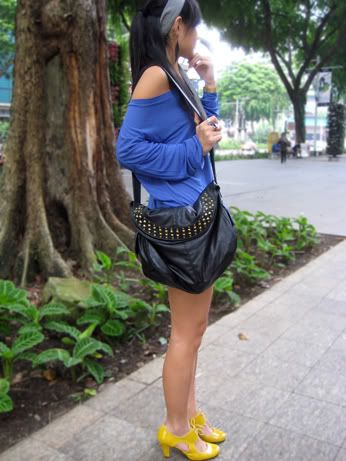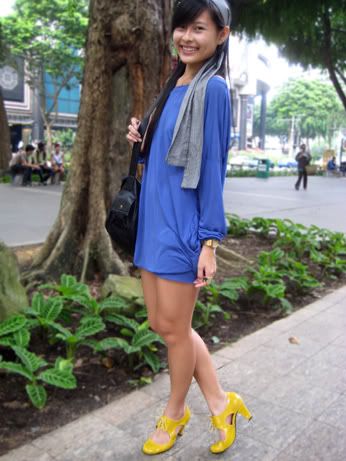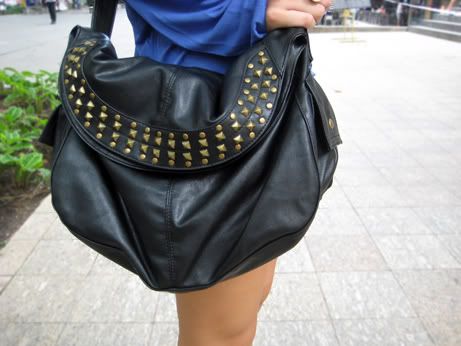 Dress from Pull & Bear and Bag from Forever 21.
Mummy dearest bought these for me, but only because she wants the bag for herself too. Haha.

As quoted from miss cindee. Hope you don't mind! (:
---
Kommentarer
the bag is glam rock-ish and i super adore it!!! :)
this outfit is super duper love!! haha! so sixties yet chic! love love loving it~ =D
outfit envy!;p hehe...i just love your outfit posts. the dress looks very comfy - and of course, cute on you. it doesn't ride up though? that's my usual problem with "banded" clothes. very nice summer getup!=)



i hope you don't mind but i really liked your bow ring that i ended up buying something similar to it - in red. it was just a stroke of luck i guess, i stumbled upon someone selling it online.



i'm still thinking about my own summer outfit.;p hehe...but i did get a flowy floral mini skirt recently, still thinking about what to pair it with.;p
heee yes sometimes mothers do want to aim your things or share with you dya ?

that's not a bad deal though, she will be the one paying most of the time since you all SHARE*
hehe my mom and I always share clothes!

keep up the good work. I love your blog!
Nice outfit! like ur style, it suits u well!:))
Beautiful outfit! I love your top!
Your shoes are adorable! :)
You look adorableeee.. the blue and yellow look great together :)
nasia, fangzi, Julia, Katy, Emma, Charmaine - Thank y'all for your lovely comments! (:
abby - Nope, the dress doesn't ride up, but it does kind of droop down which gets irrtating sometimes. But I love it nonetheless! (: Heh, and it's alright!
janelle - The con of it is that sometimes when I want to use it, it's gone because she's using it. But I agree that the pros are much better than the cons! (:
Sue - I think it's a wonderful thing if you can share things with your mum. You'll have more things to play around with I reckon! (: And thank you for commenting!
emm - I only commented twice recently on encouraging readers to comment dear, I don't think I'm overdoing it. And I dare say that I am definitely not Rumi, I am not trying to be any of them, I am not popular, and I don't give a damn about being popular. The reason why I am doing this blog is so to aid in my future undertakings with the fashion world as I come from a business background.



If you've read my post, you might have noticed the excerpt by the lovely misscindee. I merely agree with what she said. That it's nice to know that there are people out there enjoying my blog. I'm not demanding compliments or applauds. You can tell me (nicely of course) that my top does not match my skirt because yada yada yada, and I will gracefully accept your suggestion because everyone has their own opinion.



Anyhow, I thank you for your comment. (:
have your share of "haters"? don't worry everyone has one. what's important is that you're not doing anything wrong. definitely can't please everyone. just keep the outfit posts coming! hehe...;p



btw i checked your bow ring and what i bought seems to be bigger, and the bow style is different so at least yours is still unique. hehe...i totally understand what you said before about not really wanting to post where you get your stuff...hehe...sometimes i like to keep my "happy place" all to myself too.;p



again, really cute outfit.;p looks very comfy...hehe i'm still stuck in skinnies.=(
That bag is really great my dear!
abby - Nah, it's just someone sharing her opinion I guess. (: It's fine, I feel honored that there are people feeling inspired by me, really. Heh, do more shopping!! And thank you for your kind comments all the time. Really appreciate it. (:
Juley - Heh thanks! (:
hello my dear! i read your blog regularly and have commented a couple of times (: been an avid reader since early on and i draw tons of inspiration from you on how to dress in singapore (considering our extremely clone-ish dressing in s'pore that is)! and i do hope that you know that we your readers <3 you!



xoxo
kerry loh - Hello! I'm glad and honored to be deemed as an inspiration to you and thank you for your kind comment! (:
fair enough, but if people comment, do you comment back? reciprocating is just as important.
of course i dont mind luv. ur previous post sparked me to express what i felt too. i like this outfit. dont think i can pull it off tho =P
Hey just found your blog! cute!=) and cute boyfriend, too. haha
Deanne - Whenever people comment, I'd reply back to their comment even if to say a thank you. Also, I'd click on their blogs if there is a link, and I would comment if I see something that I like or I have some thoughts to share too.
cindee - Haha, thank you! (:
i just did! haha...in between writing articles i switch over to ebay or to your blog or to chictopia to get inspiration...haha...although we have different body types so i can't really pull off most of your looks but i still get a lot of neat "tips" just by checking out your cute outfit posts.;p



btw, will wait for your next one. hehe...=)
I love the color combination. Very bright and pretty. I need to buy more dresses. I hardly have any. The ones I do have are more fall/winter friendly that I would wear when I was in high school.



Hope your day was a nice one.
ps. heads up! pedder red mid season sale! up to 50% off, and additional 10% off for two or more! :D
Champagne - Me too, I don't really have much dresses actually. Have been trying to get more pretty floral dresses recently. Thanks and have a nice day too!
kerry - GETTING DRESSED RIGHT NOW. Haha! Definitely going!!!
I just found your blogg like 10 min ago (through chictopia) and I already love it! Loyal reader right here :) Love you're style!
heee yes sometimes mothers do want to aim your things or share with you dya ?

that's not a bad deal though, she will be the one paying most of the time since you all SHARE*
Anna - Hello and thanks for your support! (:
janelle - Yes, agree, totally not a bad deal because this way I'll have more clothes than I actually have! Heh.
Omg that outfit was so cute! Love the colours, and that bag.... adorebul! Now I'll just look through this blog for a while, it seems pretty awesome! Love,
JOSSAN - Heh thanks! (:
SHOES SHOES SHOES

LOVE LOVE LOVE



xoxo: Janet
janettaylor - :DDD
Hi CFR,



I am kat kelly, I was the one bothering you about being a stylist, FROM NYS (New York State)US. Anyway, I still believe that you should be a stylist but I am not going to bother you about that.



What I want to bother you about is...Doing an interview on you for my site. The site is about creative branding, I have a new section about branding your style. I would like to do an "article like" on your style.



With new photos of you in styles that people haven't seen. I think you have a GREAT fashion look you are creative, I look forward to seeing what you come up with. So let me know.



you can email me.



http://theartistresolution.webs.com/
Oh, I think I just fell in love with your bag ! :D
click here for the top click here anywhere
Trackback