Inspired.
source: netaporter, polyvore
Marc Jacobs Chain detail bouclé jacket, Chanel 2.55, Givenchy Lace Shoe Boots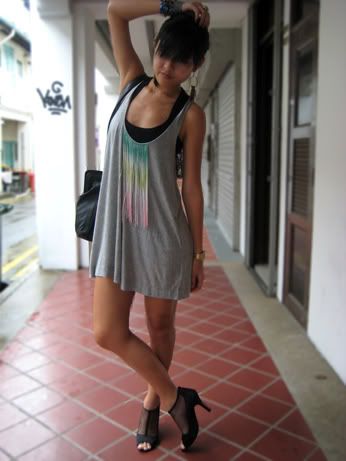 So today after attending a university openhouse talk with a girlfriend, I headed to Haji Lane with the boyfriend to check out the
ohsofickle boutique
I heard so much about. Then it started raining heavily, and to think it was so damn sunny yesterday. Grrr, the weather is seriously going berserk.
---
Kommentarer
Your fringe top is cute! love your style! (: By the way, are there any nice stuff at ohsofickle boutique at haji lane?
woahh that fringe top is gorgeous!

Can i ask what brand it is?



Love you blog, watch it everyday :)
fangzi - Thank you! There's not much variety at the boutique actually (maybe it's because everything get sold out at the website so fast!), but there's still a number of cute buys. (:
Laura - It's from f21, and thank you so much for your support! (:
i love your outfit!

so jealous of your bag and shoess
miranda - Thank you! Your h&m shoes killed me!
i love this dress its so cute and the shoes are perfect



XX

Vi from Cali
You pull the dress off so nicely! I love your rings! :) Oh and your sunhat from the previous entry is cute! May i ask where is it from?
violet - Thank you!
where are ur rings from ?! love itt!
hey!

love your heels (the mesh ones)! where did you get them from?!?!? please tell :)
whatsupp - I got them from a flea!
Sara - I got it from a local shoe boutique call Mondo. (:
Trackback