Hidden treasures.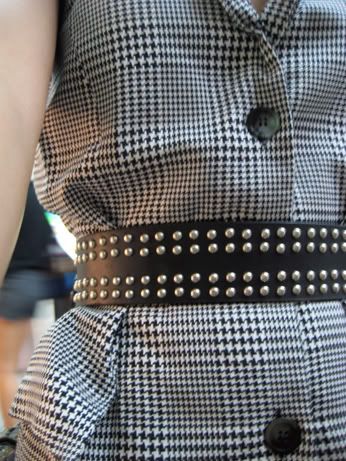 The houndstooth vest was my mum's from about 20 years ago. She had tons of vests, and obviously I had the "obligations" to inherit those from her. Hahaha. And I like the Adidas t-shirt that the boyfriend wore today. Very unique design. On a closer look you can see a somewhat watermark-like "Adidas" splashed diagonally across the t-shirt.
---
Kommentarer
Hey girl,



First: Thank U for Ur lovely comment! ;) Check this out, if U have a mood! ;)



I love Ur yellow shoes! Cooooool!



Have a great weekend: Janet



P.S.: I have link Ur blog on my blog list! Okay? :)




janettaylor - You're welcome and thank you for the compliment! I've linked you too! (:
Oh my, you are fast becoming my favorite singaporean blogger! Your shoes are crazy! And i envy your hair.

Imma link you, will that be okay?
I love YOUR shoes, lady! =]



xx
how lucky you are. my mom gave away all her old clothes :(
Hello dearie. i LOVE your style and how you out things together. first time coming by so thought i'd leave a lil msg and say hello. u mind if i add you to my links? =)
yellow shoes! to die for. great dear. I adore your style.

come again.



xo ;3
great comination ! you look very pretty and you are really lucky to get such clothes from your mum. she has awsome style just like you.

love, victoria



http://ohvandalism.blogspot.com
AJ - I saw your latest post and I wanted to comment but I couldn't because I don't have a blogger account! What I wanted to say was I've been contemplating on this issue also! I was contemplating between undertaking a Fashion Marketing & Merchandising Diploma and Degree/Fashion Management Diploma and Degree in my local arts schools or just a Business Degree in a university. Well, I've planned to apply for all, undergo the interviews and see where life takes me, haha. It's a really big plunge to take, but what if it does takes you somewhere? I say take the plunge! (:



Good luck dear (to me and you heh) and I've linked you too!
Fashion Chalet - Thank YOU! Your shoes are to die for too!!
Sindy - Heh, I'm glad my mum didn't. (: She was keeping them for old time's sake. Haha.
cindee - Hello and thank you! (: Would love to have you adding me to your links! Have linked you too!
Enep - Thank you! (:
ohvandalism - I am glad she does! Heh, thank you! (:
hey i totally dig your shoes. where and how much did you get them?
april - Thanks! I can't remember, I got them at 20% off at Schu.
Trackback