Flea tomorrow!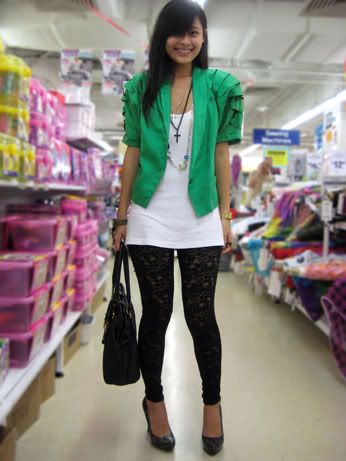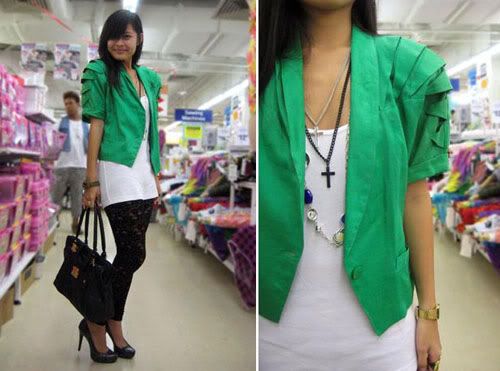 Inner tanktop from Topshop, Jacket was my mum's, Heels from Aldo.
I'm stealing from my mum's closet again, haha. She don't wear it anymore anyway! I love the thick padded shoulders and its design on it, annnnd the color is a plus! Oh I love my mum. :D
Anyhow, I promised to give a verdict on the Aldo platform pumps, so here goes. Well, it currently has the highest heels in my shoes collection but actually, the height is not the problem. The size is a tad big for me so my heels kind of slips up and down the shoes when I walk, which is
extremely
irritating. I stuck on paddings at the back of the heel but it's not really helping as much as I want it to. If you guys know anything that can help, please let me know! In all, I love it! If not for that. ):
So anyway, I will be opening a stall with my darling sister tomorrow (only) at Mount Sophia in Dhoby Ghaut. Drop by if you can! I will be selling away my mesh heels because it's a tad bit small for me. ): Selling things cheap, hoping to see you girls (hello fellow Singaporeans!) there. (: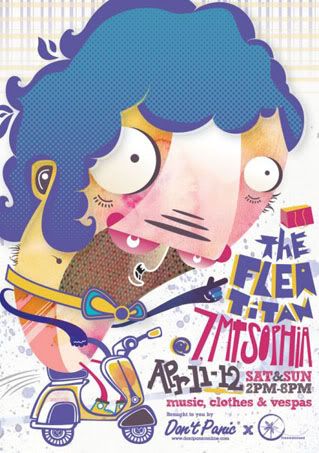 ---
Kommentarer
Gosh your mum has really a lot of fab stuff and you are so lucky to wear them too!! Envy Envy!! =D The green jacket looks unique and im so in love with greeen these days..painted my nails in all sorts of shades in green lolx! =P

And yep i might go to the flea market tmr!! Haha!! =D
I'll be watching out for this blog! (:
i looooove this outfit! especially the jacket, it's so on trend! this outfit looks great on you.=) i know it's hot in the tropics but i've been looking for nice structured jackets and blazers recently - no such luck yet. where are you btw? at a toy store?



good luck with the shoes, all i really do is stuff something inside the shoe to make it fit me but you tried that already. be careful though since it's pretty high heeled.
So damn cool... the jacket is perfect, and I love the use of color! xxx
ha i realised you look really tall in these pics (compared to your background). probably the heels #

hmm anyway would really like you to give me some comment on wearing heels cause i dont own any and would really like to try out a pair, but to me its seems rather dreesy for school and out etc => hope you would be able to give me some idea :? ty love
OMG GOING FOR THE FLEA ALSO. CAN'T WAIT.
well you can try stuffing the front of the shoes instead of the back i think that would help
Oh i wish i could go to the flea :( Maybe next time when i'm back in sg. Btw loving the heels! Sorry i have no tips on how to make it smaller for you.
if i wear a pair of tights or those insoles in the front, it helps tons (: a 7.5's usually too small for me, and an 8 is too big. haha.
the green jacket looks great! and how i wish i was in Sg now. i think the flea markets there are better compared to Msia.

:S
haha, I like stealing from my mums closet too;)



You look nice, I like your green jacket!
fangzi - Heh, my mum's such a shopaholic in the past AND now. Yes, the green is really lovely! (:
Ruby - Thanks for your support! (:
abby - Thanks! I was at Spotlight, a fabric, craft and home interior megastore. (: And thanks for the advice!!
bella - Heh, thanks!!
janelle - Definitely the heels, I am really short in actual fact. Hahaha. I agree that it's rather dressy for school but whenever I have the chance, I'd seize the opportunity to wear heels when I feel like it.

As for the height of the heels, start on lower heels first and slowly work your way up. (: Platforms are the best, gives you more comfort when you wear higher heels!
Nicole - I'll try that out, thanks for the advice! (:
Cherie - Haha, thanks and it's alright! Yea you should check out the flea markets when you come back to Singapore. How are the flea markets in Australia??
kerry - What are insoles in the front? You bet the paddings that you stick on the sole (front) area of the shoes? (: Thanks for the advice!!
Shantee - Thanks! I don't know about that, but I'd love to check out the flea markets in Malaysia! (:
Alicepoint - Thanks!! (:
yea! those gel/silicon pads you place on the sole(front) bit of the shoes (:
Hello! Great blog! It's one of my favourites! I love that you smile in your pictures. I don't understand why many bloggers don't!
kerry - Will try that out, thanks! (:
Nan - Heh, thank you for your support! (:
wowwww! i super love your outfit! not to mention your mom's awesome blazer! now i know where you inherited your cool style! :) anyway, maybe you could buy sole pads for your heels? the ones which show a silhouette of a foot? :)
nasia - Heh, thanks on my mum's behalf! (: And thank you for the suggestion!!!
I adore ur style!!Btw, nice jacket!

Ur mom must be the stylish girl in her era just like you :D
You should actually try putting the pads inside instead, on the top part. It'll help! I've got a pair of heels that keep slipping off as well, but with the padding, problem all gone! :)
Glynis - The pads are stick-ons specially for the back to prevent blisters and slipping. Apparently, it can only prevent blisters and not the slipping, haha. Thanks for your advice! Will get paddings especially for the inner part of the heels!
LOVE the legging! I LOVE your blog. It's amazing. You're a huge source of inspiration and your clothes are SO funky :D Really, I admire you so much. And your good at blog-talking (?), and not everyone has that gift (including me) ;p

Anyways, you're offically part of my fav' blogroll :D

xx
Noodles - Haha, you flatter me. I'm not good at "blog-talking"! Anyhow, thank you! (: Have linked you too!
Grymt bra Blogg! :D
Trackback